Chandigarh Postal Circle Recruitment 2022
Recruitment Organization

: Department of Post Office
Chandigarh Postal Circle Recruitment 2022 —  हेलो दोस्तों, कैसे हैं आप सभी? आज हम भर्ती के बारे में बात करेंगे। इंडिया पोस्ट ने चंडीगढ़ डाक सर्कल के लिए ग्रामीण डाक सेवक (GDS) के पद पर भर्ती के लिए आवेदन आमंत्रित किए हैं। 10 वीं पास की योग्यता रखने वाले उम्मीदवार ऑनलाइन मोड के माध्यम से पदों पर आवेदन कर सकते हैं। चंडीगढ़ पोस्टल सर्कल जीडीएस भर्ती 2021 के लिए आवेदन cgpost.gov.in पर शुरू कर दिए गए हैं। Other Detail of Chandigarh Postal Circle Recruitment 2022, India Postal Circle GDS Recruitment 2022 Apply Online ,Indian Post Office Recruitment 2022 ,Post Office Vacancy 2022 , India Postal Circle GDS Recruitment 2022 Apply Online,अंतिम तिथि, आवेदन शुल्क, पात्रता विवरण नीचे दिए गए हैं।
Gramin Dak Sevak Recruitment 2022
Chandigarh Postal Circle Recruitment 2022
Post Office Recruitment 2022 Chandigarh Apply Online
पद की संख्या–
पोस्ट नाम-
Gramin Dak Sevak (GDS)
मोड लागू करें –
कौन कर सकता है आवेदन–
ऑल इंडिया कैंडिडेट

पुरुष और महिला
Indian Post Office Recruitment 2022
नौकरी का स्थान और परीक्षा केंद्
आवेदन शुल्क
यूआर / ओबीसी / ईडब्ल्यूएस पुरुष के लिए: रु। 100 / – रु।

महिला, अनुसूचित जाति / अनुसूचित जनजाति के उम्मीदवार और PwD उम्मीदवार: Nill
 वेतन (वेतनमान) –
BPM – Rs.12000/- – Rs.14500/-

ABPM – Rs.10000/- – Rs.12000/-

अधिक जानकारी के लिए नोटिफिकेशन देखे
आयु सीमा –
उम्मीदवारों की आयु सीमा न्यूनतम – 18 वर्ष अधिकतम – 40 वर्ष तक होनी चाहिए।

आयु 01 अगस्त 2020 को

आयु सीमा में छूट: – सरकारी नियम विनियमन के अनुसार एससी / एसटी / ओबीसी उम्मीदवार छूट

एससी / एसटी -05 वर्ष, ओबीसी- 03 वर्ष
Post Office Vacancy 2022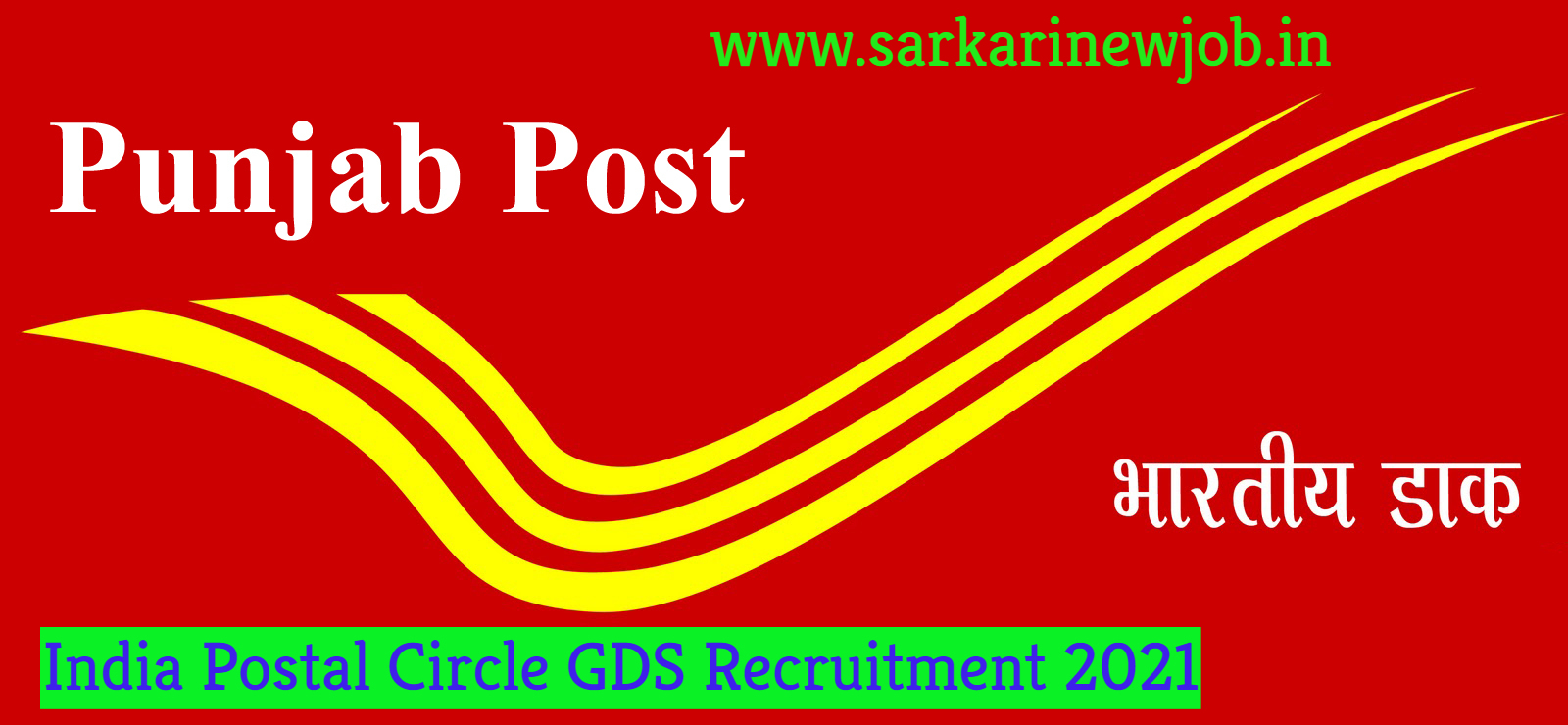 Eligibility Criteria For Indian Post Office GDS Details 2022
Physical Test Details —
रनिंग टेस्ट –
शैक्षिक योग्यता–
10 वीं की योग्यता रखने वाले उम्मीदवार आवेदन करने के पात्र हैं। उम्मीदवार को कम से कम 10 वीं कक्षा तक स्थानीय भाषा का अध्ययन करना चाहिए था

पूर्ण विवरण के लिए आधिकारिक विज्ञापन पर भी क्लिक करें।
चयन प्रक्रिया-
महत्वपूर्ण तिथि –
India Postal Circle GDS Recruitment 2022
About This Vacancy -(In English)
Hello friends, how are you all? Today we will talk about recruitment. India Post has invited applications for recruitment to the post of Gramin Dak Sevak (GDS) for Chandigarh Postal Circle. Candidates having 10th pass qualification can apply for the posts through online mode. Applications for Chandigarh Postal Circle GDS Recruitment 2021 have been started on cgpost.gov.in. Other Detail of  Recruitment 2021 Apply Online, Notification, Online Form, Other Age Limit Limit, Final The date, application fee, eligibility details are given below.
How to Apply for India Postal Circle GDS Recruitment 2022
इच्छुक उम्मीदवार आधिकारिक वेबसाइट  के माध्यम से या सीधे नीचे दिए गए महत्वपूर्ण नंबर अनुभाग में  के माध्यम से आवेदन कर सकते हैं। सभी लिंक तालिका में नीचे हैं..
कृपया ध्यान दें — इस पोस्ट की सभी जानकारी सही है लेकिन यदि कोई त्रुटि है, तो हम इसके लिए जिम्मेदार नहीं होंगे। इस पोस्ट के बारे में सभी विवरणों को सत्यापित करने के लिए, बस इस अधिसूचना से संबंधित आधिकारिक वेबसाइट पर जाएं और ध्यान से पढ़ें कि यह एन्क्रिप्शन है, जो कि महत्वपूर्ण सूची के नाम से ऊपर दिया गया है। हम तालिका में सूचना दिखा रहे हैं।
Thank YOU