QATAR Airways Recruitment 2023: The Ahmedabad location has openings for Associates, Supervisors, and Officers in the Accounts Receivables (AR) team. This team manages all AR-related activities following company policies and internal accounting procedure..
QATAR Airways Recruitment 2023
Recruitment Organization

: QATAR Airways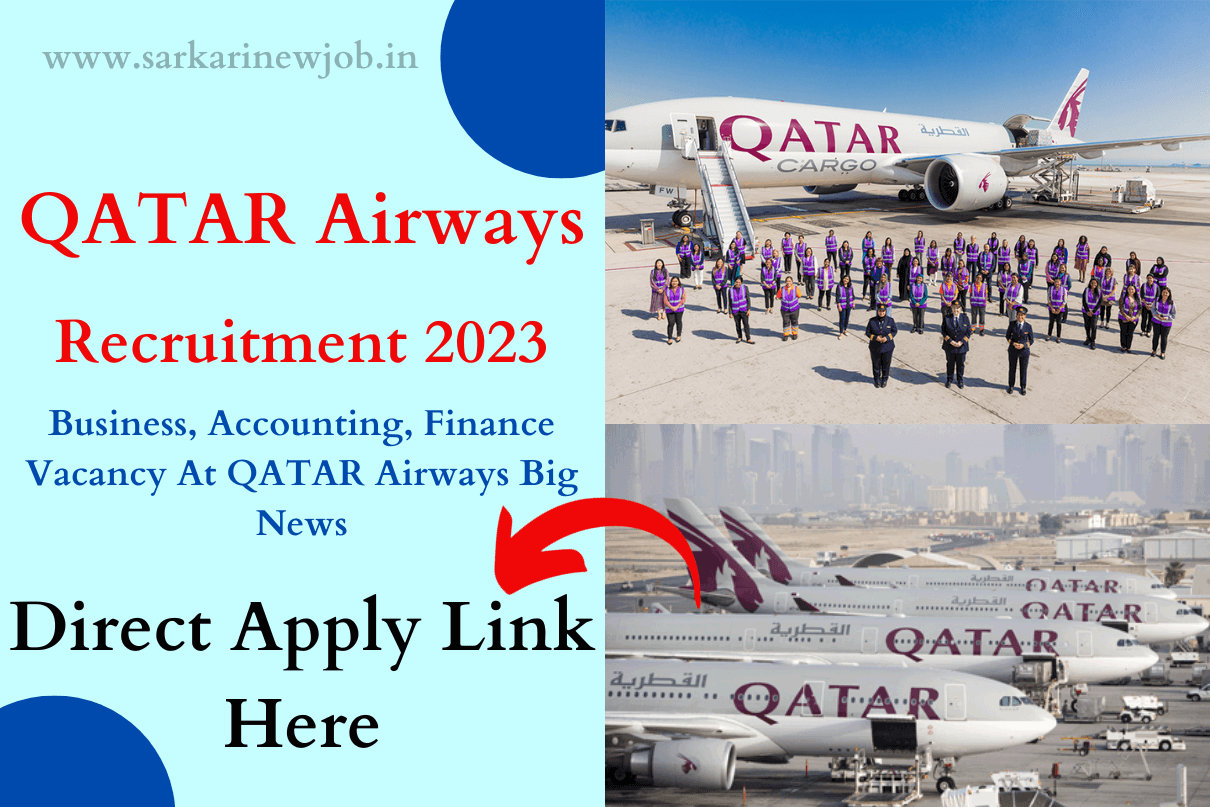 QATAR Airways Recruitment 2023 Overview
Qatar Airways is actively recruiting skilled professionals for positions within their Accounts Receivable (AR) team, including Associates, Supervisors, and Officers, at their Ahmedabad location. The AR team plays a pivotal role in overseeing and managing all aspects related to accounts receivables within the network. Their responsibilities encompass ensuring adherence to the company's policies and internal accounting procedures. This opportunity offers a chance to contribute to the financial stability and efficiency of the organization while thriving in a dynamic and growth-oriented work environment. Join Qatar Airways in Ahmedabad to be a part of a dedicated team committed to excellence in AR management.
Roles And Responsibility
Financial Criteria Review: Regularly review and update financial criteria for each market based on their risk profiles.
Risk Matrix Management: Develop and maintain both internal and external risk matrices, incorporating pre-alerts.
Credit Application Evaluation: Evaluate credit applications for new and existing customers, providing recommendations for approval.
Security Exposure Monitoring: Monitor the need for renewals and ensure adequate financial securities to cover exposure.
Invoice Accuracy: Ensure timely and accurate billing for all invoices.
Debt Recovery: Collaborate with stakeholders to recover outstanding amounts from customers and business units. Manage overdue accounts, taking legal and commercial actions as needed to minimize bad debt.
Aging Statistics: Prepare and monitor aging statistics on a regular basis.
Reconciliation: Reconcile accounts receivable aging against AR control accounts, including checking for exchange rate gains or losses, bank charges, credit, and commission.
Provision for Bad Debt: Ensure monthly provision for default and doubtful debts in accordance with policy.
Compliance and Reporting: Perform controls as outlined in the Internal Control Handbook, conduct sample checks for set-offs, and perform self-audits to identify non-compliance. Also, prepare or update Standard Operating Procedures (SOPs) to enhance internal controls and knowledge retention. Additionally, create KPIs and dashboards to track performance.
Engagement: Be part of an extraordinary journey within the organization.
Qualification For QATAR Airways
Bachelor's degree in Business, Accounting, or Finance
Previous experience in Accounts Receivable processes within a multinational setting
Proficient in English language communication
Familiarity with Microsoft Word and Excel at a user level
Knowledge of ERP systems; experience with Oracle/JD Edwards is advantageous
Knowledge or experience in Lean/6Sigma methodologies is a plus
Disclaimer
Informational Purpose: The recruitment details presented here are solely for informational purposes.
Sourced from Official Site: The information has been sourced from the organization's official website.
No Recruitment Guarantee: We do not offer any recruitment guarantees, and the hiring process adheres to the official procedures set by the company.
No Fees Charged: Our services do not involve any fees for providing job information.
No Liability: Neither the author and its affiliates assume any liability for losses or damages arising from the information in this article or actions taken based on it..
Note : All information in this post is correct but if there is any error, we will not be responsible for it. To verify all the details about this post, please visit only the official website related to this notification and read carefully that it is strategic, given above the name of the important link..
For More Detail Visit Now
You Tube Video For QATAR Airways Recruitment 2023
Thank you
FAQ : QATAR Airways Recruitment 2023 Big Update
Q1: When does Qatar Airways plan to recruit in 2023?
A1: The recruitment details for Qatar Airways in 2023 are not specified here.
Q2: How can I apply for Qatar Airways jobs?
A2: You can apply for Qatar Airways jobs through their official website or recruitment portals.
Q3: What qualifications are typically required for Qatar Airways positions?
A3: Qualifications vary by position, but many roles require relevant degrees and experience.