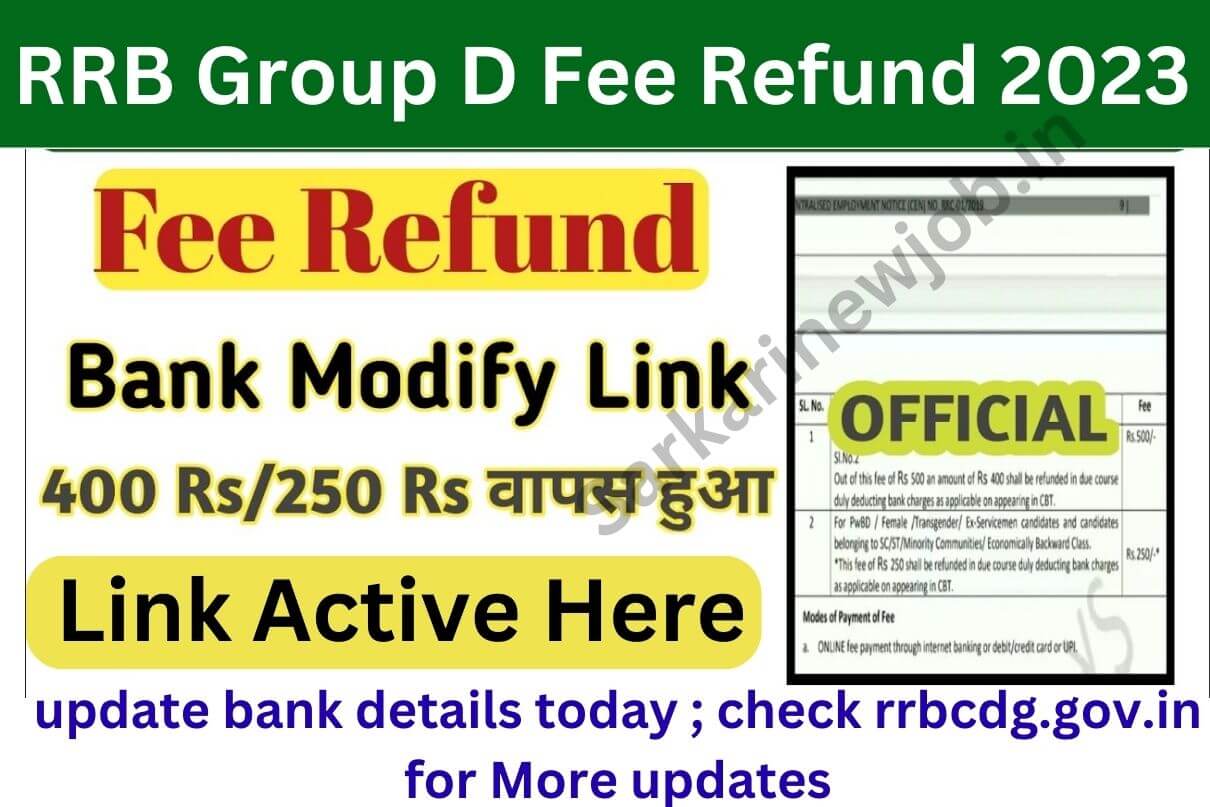 RRB Group D Fee Refund 2023— The Railway Recruitment Board (RRB) has recently uploaded a notice regarding the refund of fees for Railway Group D. All candidates who had filled out the application form can now download their Fee Refund Notice. To access the notice, candidates can use the link provided below if they had previously filled out the form. Railway Group D Fee Refund Sarkari Result, RRB Group D Fee Refund 2023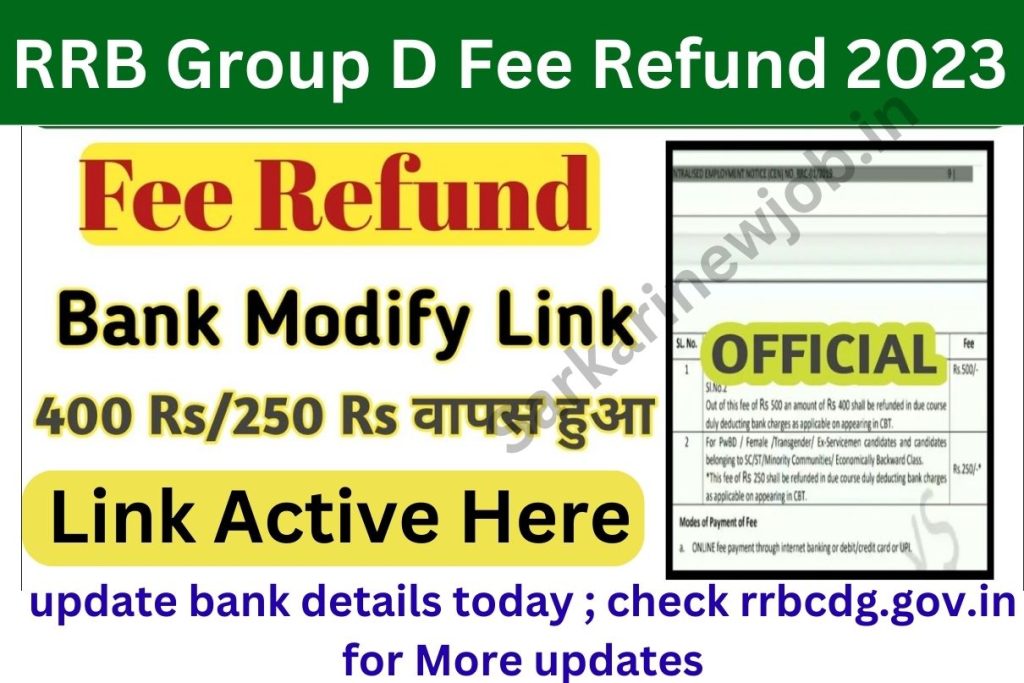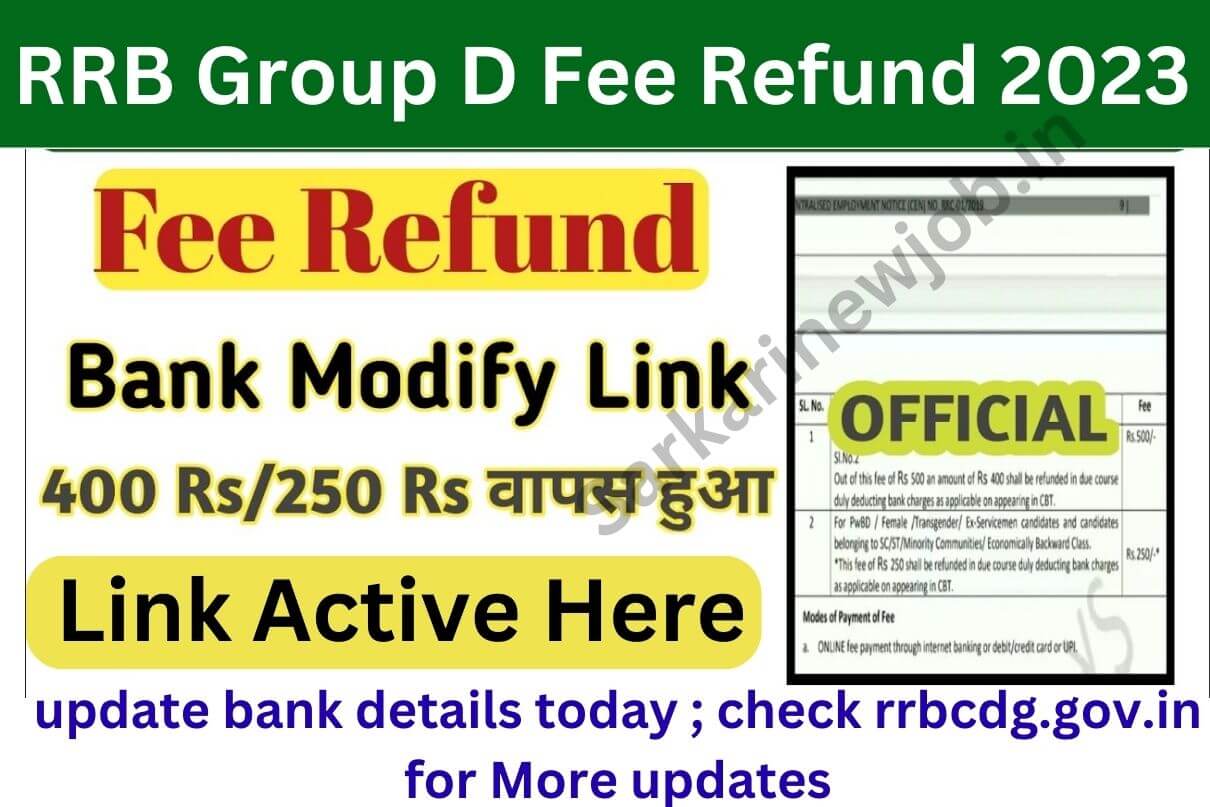 RRB Group D Fee Refund 2023 Overview
Number Of Post-
Post Name–
Track Maintainer Grade-IV
Helper/Assistant in various technical departments such as Electrical, Mechanical and S&T departments
Assistant Pointsman
Level-I posts in other departments of Indian Railways
Railway Group D Phase Wise Date 2023
Railway Group D Fee Refund Link 2023
The deadline for submitting bank details for the refund is April 30, 2023, by 5:00 PM. The refund, which will have bank charges deducted from it, will only be given after the Railway Recruitment Board has verified the candidate's details from their records.
Claims that are incorrect, incomplete, or late will be rejected without consideration. Only one refund can be transferred to one bank account. There will be a "Forgot Registration Number" menu available to help those who have lost or forgotten their registration number when submitting bank details.
Please note that students are advised to update their bank details carefully, as once they have been updated, they cannot be modified again.
The Railway Recruitment Board will not be responsible for non-refund of fees due to incorrect bank details, and they will not respond to any related correspondence.
Railway Group D Fee Refund Sarkari Result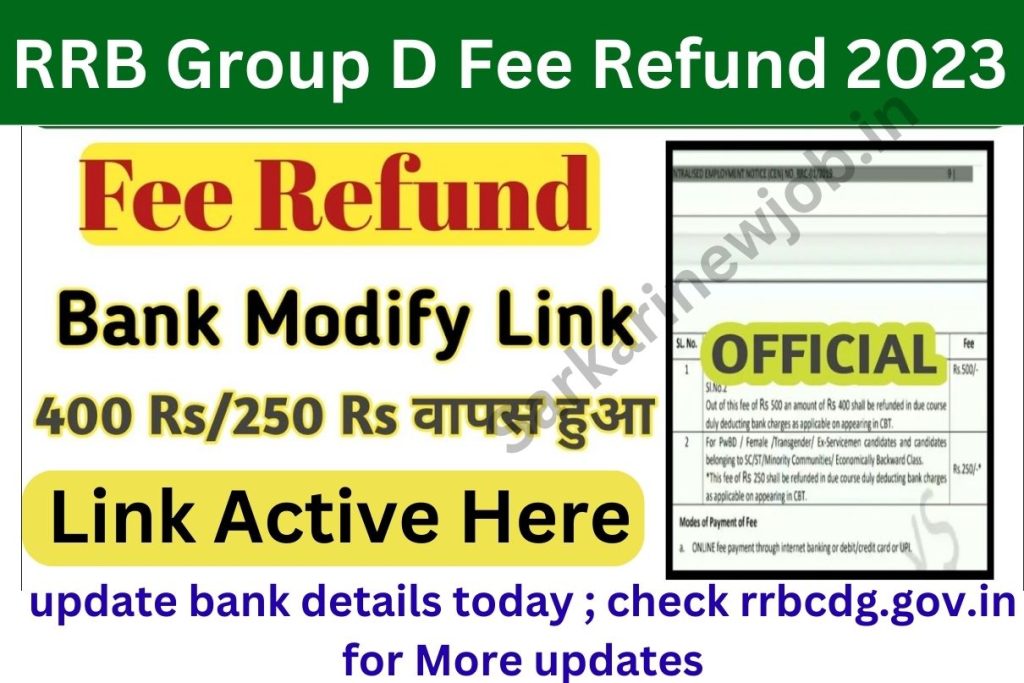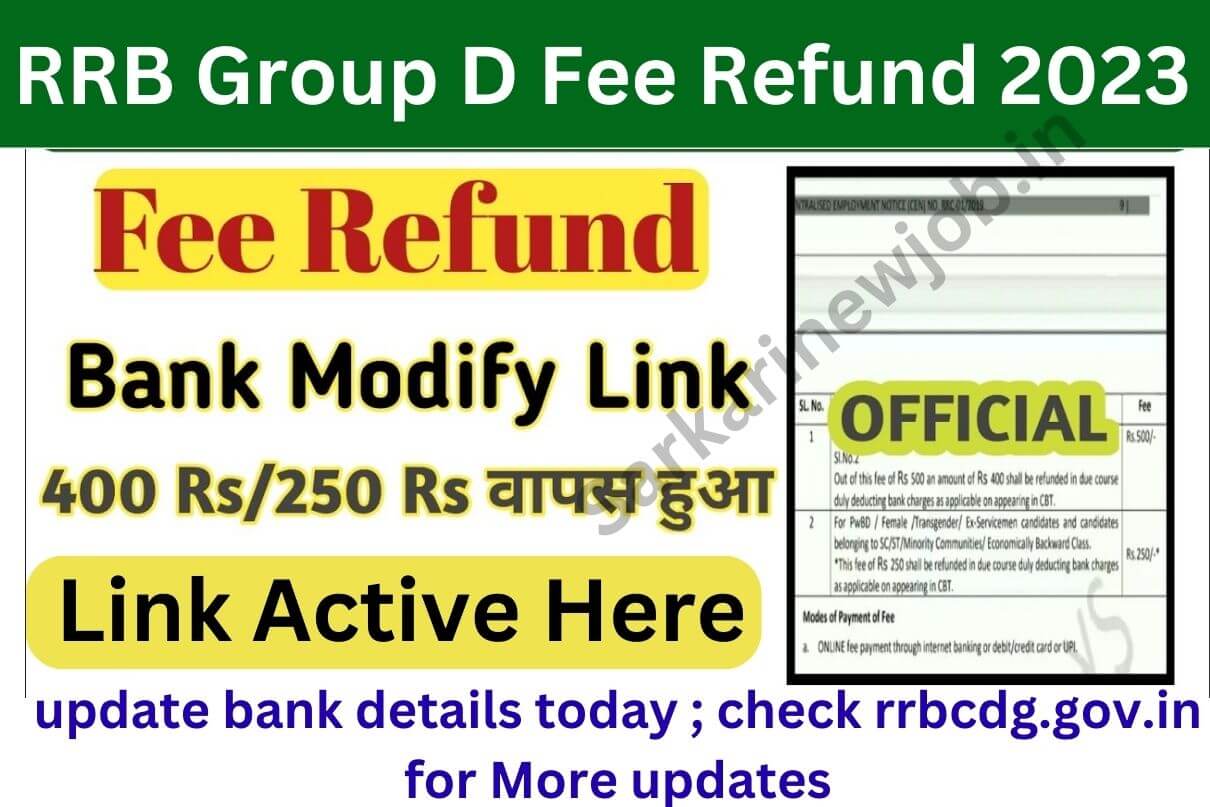 RRB Group D Fee Refund 2023
(How to Apply RRB Group D Fee Refund 2023)
आप रेलवे रिक्रूटमेंट सेल की आधिकारिक वेबसाइट पर जाएं।
आधिकारिक वेबसाइट के होम पेज पर "आरआरबी ग्रुप डी fee Result" के विकल्प पर क्लिक करें।
नया लॉगइनपेज प्रदर्शित हो जाएगा, जिसमें आप लॉगिन आईडी और पासवर्ड दर्ज करें।
Time Schedule :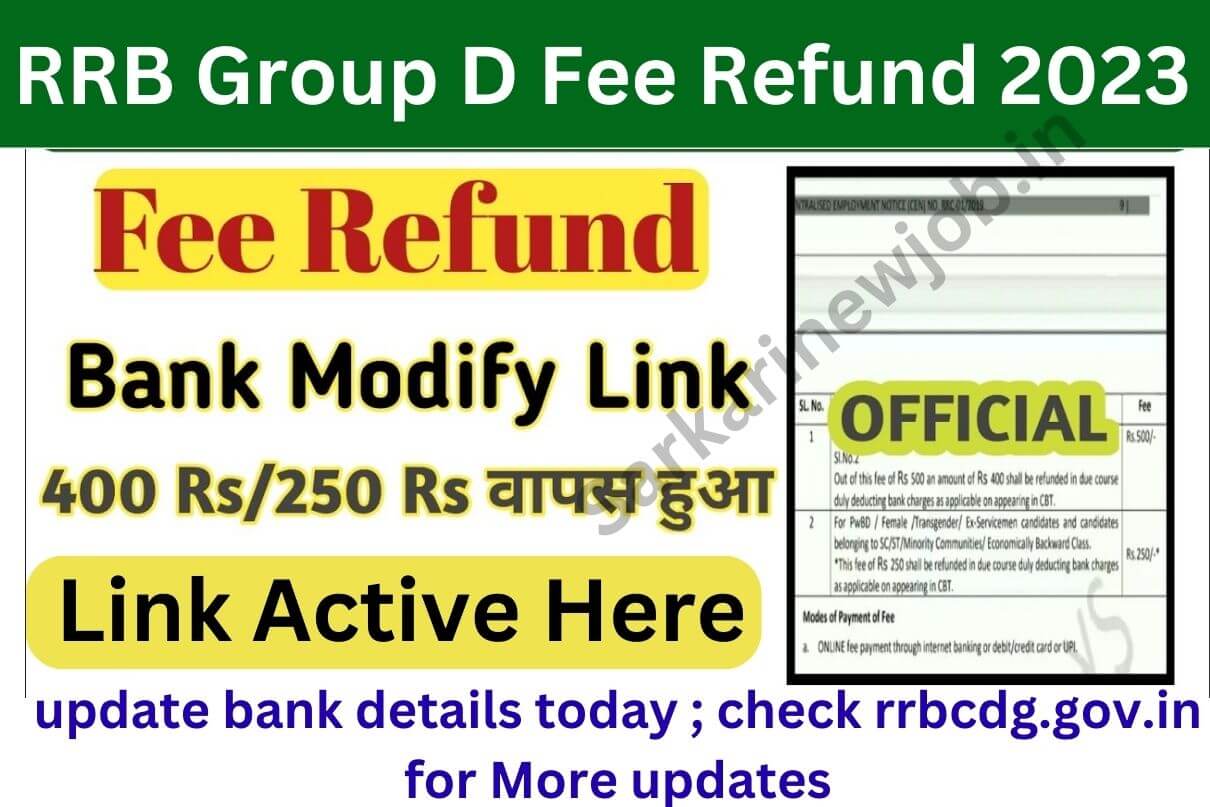 About in Hindi
—
Railway Group D Result Kaise Dekhe 2022
-आरआरबी ग्रुप डी फी रिफंड 2023– रेलवे भर्ती बोर्ड (आरआरबी) ने हाल ही में रेलवे ग्रुप डी के लिए फीस की वापसी के संबंध में एक नोटिस अपलोड किया है। सभी उम्मीदवार जिन्होंने आवेदन पत्र भरा था, अब अपना फी रिफंड नोटिस
डाउनलोड कर
सकते हैं। नोटिस का उपयोग करने के लिए, उम्मीदवार नीचे दिए गए
लिंक
का उपयोग कर सकते हैं यदि उन्होंने पहले फॉर्म भरा था। रेलवे ग्रुप डी फीस रिफंड सरकार परिणाम, आरआरबी ग्रुप डी फीस रिफंड 2023
How To Apply For RRB Group D Fee Refund 2023
To submit your bank details for the refund, first, click on the direct link provided below.
Next Page to visit or, enter your registration number and date of birth to log in your Account.
Once you have successfully logged in, you will be directed to a dashboard where you can enter your bank details and IFSC Code.
Carefully enter your details and ensure that they are accurate.
Finally, submit the updated details to complete the process.
For More Detail Visit Web Story—
How To Apply For RRB Group D Fee Refund 2023
How To Apply For RRB Group D Fee Refund 2023